Save Stress, Time and $2,251 by protecting your Home with HAVEN Smart Lock

The average cost of a burglary in the US is $2,251. Never, ever be forced to pay that price.

The average lock can be kicked down in under 5 kicks. HAVEN Lock is a revoluntionary smart lock built by U.S. Special Ops Veterans to provide protection that is 10 times stronger than a deadbolt.
Subscribe for home security tips, updates and discounts.
(We NEVER spam or sell your information)



Offers security

10 times stronger than a deadbolt

Lasts for over 25 years with durable steel and nylon

Protects your home from common burgarly tricks
Quick to Install, Simple to Use
Install the entire HAVEN unit in under 8 minutes
Lock and unlock easily with the app or key fob
Use award winning customer support and simple Install Guide
Veteran Owned, Made in the USA
Created by U.S Special Ops veterans (meet the team)

Made in America, with love from Tennessee

Built with quality for American Homes
HAVEN Lock secures your home with a durable barrier that is 10x stronger than a deadbolt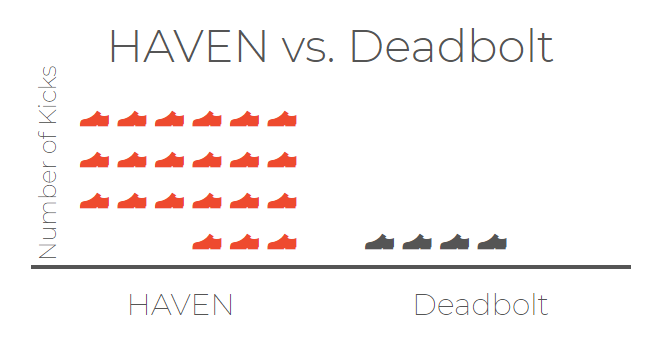 "Finally got my back door replaced and installed the Haven without incident. The Haven is in place and I love it. I love that it's made here in America and wish you success in going forward with your enterprise. P.S. The guy who replaced my door was so impressed with your Haven Lock that he was going to get one for himself!"
-The Fairbanks Family, Houston, TX
13 September 2017 (14:42)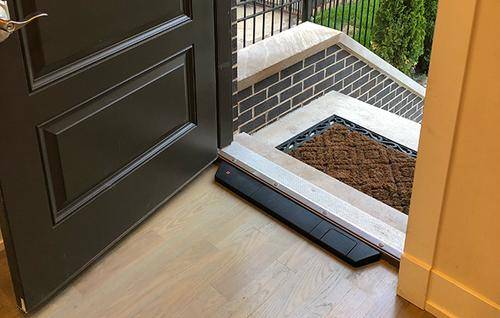 "I bought this lock for greater peace of mind and security during my pregnancy. Easy to install and use. Thanks HAVEN!"
-Liz, Chicago IL
22 May 2018 (22:19)
"Intruders can't pick locks or force their way in by targeting the deadlock (in fact you won't even need a set of keys) because Haven acts a powerful smart wedge that reinforces the strongest part of your door. It's so strong, it can take on a battering ram and come away victorious."
-Matt Brian, Endgadget
16 May2018 (10:17)