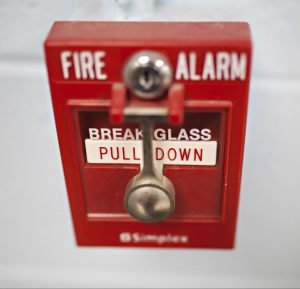 One Motion Unlock
What Does it Mean? Why is it Important?
We've spent a lot of time making sure HAVEN Lockdown™ is smart enough and strong enough to make your school, sanctuary, or office a fortress against active shooters and other external threats. But although keeping the bad guys out is our strong suit, we know it's also crucial to provide for easy evacuation when necessary. Complying with one motion unlock requirements ensures the safety of everyone inside the room in the event a fast exit is required. One motion unlock means that the lock can be released with one simple motion that can be accomplished with one hand. No codes to punch in, no complicated series of steps, no heavy bar to slide away–even a small child can disable HAVEN Lockdown™ with one-touch if necessary.
Fire Safety is a Key Driver for One Motion Unlock Requirements
Once upon a time, fire was the biggest threat to worry about when designing schools and other public spaces. Detailed fire safety codes dictate many aspects of residential and institutional architectural design, and egress (means of exit) has always been a key focus area. In the event of fire, it is critically important that large groups of people be able to exit a building quickly and safely. In a situation of panic and chaos, a lock must have the ability to be easily opened by anyone–including the disabled and the very young. The tragic 1958 Our Lady of Angels School fire–in which 92 students and three nuns died–inspired major changes in school safety regulations, and caused thousands of buildings to be updated across the country.
Modern Threats Have Evolved; Safety Protocols Must Keep Up
With the advent of advanced fire prevention, detection, and suppression technologies, fires are no longer the biggest threat facing children in classrooms. According to the National Fire Prevention Association, "U.S. fire departments responded to an estimated average of 4,980 structure fires in educational properties in 2011–2015, annually. These fires caused annual averages of one civilian death." During the same period, the Center for Homeland Defense and Security reports that 15 active shooter events occurred in schools, and gun violence in schools caused 92 deaths. School data from recent years only shows a worsening trend, with 15 active shooter incidents and 71 deaths already reported in 2018 and the first half of 2019. School safety and security protocols simply must take this growing gun violence threat into account, while complying with existing codes and standards.
HAVEN Lockdown™ is Designed for Maximum Compliance and Maximum Security
HAVEN Lockdown™ offers multiple unlock options for maximum flexibility and functionality. Every Lockdown installation offers a simple unlock mechanism on the lock itself. The device can also be instantly unlocked with one touch of a keyfob, phone-based app, and a wall mounted egress only button or a door mounted motion sensor to meet the 2018 Life Safety Codes for egress of an emergency only lock. HAVEN Lockdown is compliant with all of the major codes and standards governing institutional spaces, including:
FCC
2018 Life Safety
NFPA
ADA
HAVEN Lockdown™ is the Solution for Safety and Peace of Mind
HavenLock's goal is to make your school, sanctuary, hospital, or place of business as safe as possible. Our military grade door lock offers enhanced protection against active shooters and other external threats by allowing teachers and administrators to lock down individual rooms without sacrificing other critical safety features. While the rise of mass shootings has us focused on keeping threats out, we know it's equally important to be able to evacuate a space quickly when necessary. Lockdown's instant egress options provide solutions that work for everyone.
To learn more about HAVEN Lockdown™ and our proactive safety solutions, contact us today. We'd love to help you keep your people safer.