Key Fob 101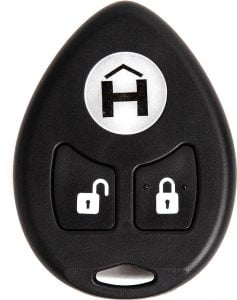 Aside from the lock itself, your Lockdown key fob is probably the most important piece of hardware in the HAVEN Lockdown™ system. It puts safety, control, and peace of mind right in the palm of your hand. So let's take a closer look at this critically important device and how it can help keep you and your students, parishioners, or employees safe.
The Lockdown Key Fob is Tiny But Mighty
The Lockdown key fob is small–at 2" x 3", it looks very similar to the car key fobs that many of us have on our keychains. Inside this tiny case is a standard coin cell battery that generally lasts up to 3 years. We recommend changing the key fob battery on a normal maintenance schedule.
Encrypted Bluetooth Connection Powers the Lockdown Key Fob  
Once your HAVEN Lockdown™ device is installed on your classroom or office door, you will pair the fob with the lock by using a simple two-step process.
Simple Operation Makes the Lockdown Key Fob Mistake-Proof
Like the car remotes you're used to, the Lockdown key fob operates with the simple and instantaneous touch of a button. With only two buttons on the device, the only options are Lock and Unlock. Each button activates or deactivates the Lockdown device in less than two seconds with one touch.
Proximity Makes the Lockdown Key Fob Your Go-To Solution
In the event of an intruder or active shooter situation, speed is critical. The best way to activate your HAVEN Lockdown™ smart lock is always going to be the closest. That's why we recommend wearing the key fob on your person at all times using a lanyard. When you have the fob with you, you always have the power to instantaneously lock down your space and keep threats out.
Multiple Options Make Lockdown the Best Solution
The Lockdown key fob isn't the only way to activate or deactivate the smart lock. If you find yourself separated from the fob at a critical time, you can always activate the lock mechanically at the door. Another alternative that works from a distance is the Haven app on your smartphone.
At Haven, we know it's important to have options and backup solutions during a threatening situation. Affordable and easy to implement, HAVEN Lockdown™ is the stronger, smarter lock for your school, workplace, or house of worship.